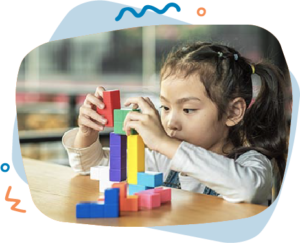 All About ABA provides exceptional, comprehensive care and services for children with autism between the ages of 2 and 18. We conveniently provide our applied behavioral analysis services in the family's home. Each family will have a compassionate, personalized team who will provide opportunities to work with both the child and the parent. The behavioral team encourages parents to participate in sessions. It's wonderful when the child learns new skills with our clinical team, but it's even more important that they utilize these skills with their family. Parents will be taught through our ABA sessions and parent education meetings how to teach skills that are most important to their family goals and values. If you are a parent of a child on the spectrum or think you may benefit from in-home ABA therapy for autism, reach out to our team today by calling 844.525.5226 or completing our online form. You will hear back from our team promptly. Immediate openings available.
In-Home Services
The in-home autism treatment therapy provided by our All About ABA team varies depending on the specific needs of the child. No two children are the same, so no two children should have the exact same plan for care. As a result, we collaborate with the family on teaching children a wide range of skills through our natural and play based therapy. Based upon the recommended hours for a child and the skills a child needs differ for each child, we create many opportunities to learn multiple skills in a session.
Some of the many skills that we teach in a session include:
Communication skills
Play skills
Daily living skills
Life skills
Community skills
Generalization skills training
Toilet training
Our All About ABA team's at-home autism therapy programs are designed to help children achieve three main goals: reducing challenging behavior(s) by reinforcing more appropriate behaviors, increasing independence, and helping reach the child's fullest potential. These goals are significant, as are the benefits of our at-home ABA therapy.
Benefits of In-Home Services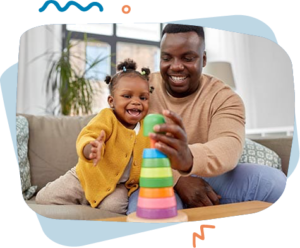 Our team's top priority is to ensure that children are receiving compassionate and comprehensive care, which is how they benefit from our in-home services. Some of these benefits include:
A familiar environment – Perhaps the most significant benefit of at-home ABA therapy for children with autism is that the children are already in their homes, so they feel more comfortable. Many children with autism have a difficult time transitioning to and engage in challenging behaviors in new places so in-home autism treatment therapy is often the best option.
Flexibility – For parents, the flexibility of in-home services is vital. At-home autism therapy is undoubtedly more convenient for families, as they don't have the stresses when it comes to drive to one of our locations.
A customized plan – There is no "one-size-fits-all" approach to therapy, especially for children with autism. Our team of experts first performs several assessments and then uses that information to create a customized plan that sets specific goals for the child based upon what occurs in the child's everyday life.
Support– There will be natural opportunities for a child to engage in challenging behaviors in their everyday life. The clinical team works closely with the family to provide support when challenging behaviors occur in natural situations.
Teaching everyday skills– Many children with autism have a difficult time utilizing their skills with different individuals, materials, and locations. A significant benefit to in home ABA is it removes the need to have the child engage in the same skill from another setting to the home setting. There will still be opportunities to generalize this skill to other locations, but it's important to start in the natural setting.
Another benefit of our in-home services is our parent education. This unique program teaches the family how to better communicate with each other, work collaboratively on teaching skills, responding to challenging behaviors, in turn building a more harmonious family environment. Our All About ABA team wants the entire family to be part of the process.
Choose Our Team for In-Home ABA Therapy for Autism
Our All About ABA team proudly provides in-home ABA therapy for autism. If you are a parent of a child with autism, at-home ABA therapy may be exactly the support your child needs to reach their goals. Learn more by contacting our team today by calling 844.525.5226 or completing our online form today.